Deliveries and returns
Informations
Packages are usually shipped within 24 to 48 hours after receipt of your payment.

Whatever the chosen shipping method, we will provide you as soon as possible a link that will allow you to follow the delivery of your package online.

Shipping costs include packing, handling and postage. They can contain a fixed part and a variable part according to the price or the weight of your order. We advise you to group your purchases in one order. We can not group two separate orders and you will have to pay shipping costs for each one.
Packages are oversized and protected.
Carriers and tariffs
Metropolitan France :
Delivery in mainland France is free for all orders from 89.00 EUR.

For orders below EUR 89.00, we offer different carriers: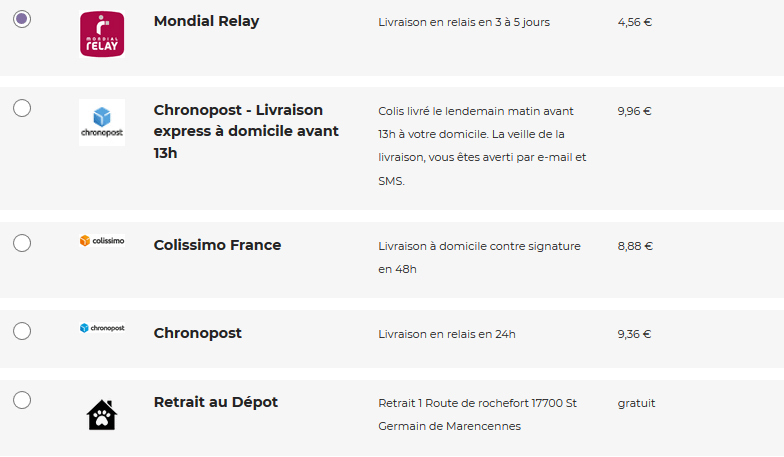 Additional charges for very bulky parcels can be applied.
Europe :

On the territory of the European Union, delivery is exempt from customs duties. For delivery to a country outside the European Union, especially in Switzerland, the customer must pay any customs duties, taxes and other taxes.

Additional charges for very bulky parcels can be applied.
Returns
You must first contact customer service to validate your return.

Returned products must be new, unused and in their original packaging complete and perfectly intact.

You must attach the invoice to the return package.

You must keep a proof of deposit of your parcel.

The return costs are the responsibility of the customer except exception (seen with customer service)

Damaged package
Any damage to goods upon delivery must be noted with the deliveryman and noted on the delivery note with reservations.

It is strongly recommended to open and check your package in the presence of the carrier.

If you are delivered in your absence, you must contact the carrier within 3 days

You must then contact customer service.
Right to retract
Under Article L121-20 of the Consumer Code, the buyer has a period of fourteen working days from the delivery of their order to exercise his right of withdrawal and thus return the product to the seller for exchange or refund without penalty, except for the cost of return.

   The withdrawal period does not apply to sealed goods such as cosmetics, hygiene products, perfumes ...
Repayment Terms
Subject to compliance with the terms and conditions of return, Pet Beauty Store will refund the sums paid, within 14 days from the date of receipt of the returned package and via the same means of payment as used in the order.